Hello all, I hope everyone is doing more splendidly than a rehash of Judy Garland's performance of 'Somewhere Over the Rainbow' performed by drunk squirrels.
Don't forget to order your signed copies of "
Life is a Circus Run by a Platypus
" and "
Life is a Pirate Ship Run by a Velociraptor
" by December 1st so that they can reach you and your loved ones by Christmas! Want to find out more?
Click Here
!
Also, half of my proceeds from either of my books sold during the month of November and December will go to help the efforts of
SpokAnimal
!
So buy a book and know that you're helping adorable animals like
Jagger
here get second leash on life (pun so very much intended). Oh, and by the way
Jagger
is up for adoption. So someone should go grab up this sweetheart before I have a weak moment and kidnap him myself.
One other very quick, and completely last-minute, announcement. I will be doing a book signing and reading at
Monkeyboy Books
this Saturday (November 22) at 5:30 pm! So if you're in the area come say hello!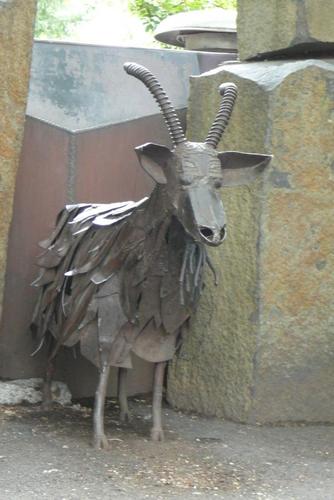 Warning: Might Eat Your Soul
In other news, Spokane has officially solidified itself as the 'classiest' city in Washington.
How did we win such a prestigious, champagne soaked, title?
Well, not to brag, but we have not one tattoo and tanning salon business combo, but we have three. That's right, who in this day and age has time to wait for their tattoo to fully heal before they fake-tan themselves into oompa-loompa oblivion?
We also sport the only garbage eating goat statue, which resides directly in the center of one of our most scenic parks. The goat, designed to suck up your garbage when you feed detritus to it, also has the magical ability to sound like Satan may be opening a portal to Hell right there at your fingertips.
Still not enough proof of Spokane's classiness for you?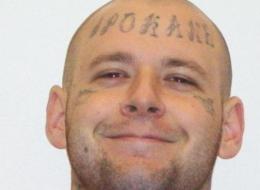 Credit: Huffington Post
Well how about our most recent appearance in the
Huffington Post
.
That's right, little old Spokane made it into Huff-Po... by being the town with the suspected murderer who managed to shoot himself in the leg trying to attack a police car that had just pulled up behind him.
And yes, that's a tattoo that reads, "Spokane" across his forehead.
See, Spokane even has self-arresting criminals, who are also proud of their hometown!
But truly, the biggest sign of our unflappable sense of 'fancy' comes from the conversations you can hear on the street.
Just the other day I was wandering down the street, in my high heels, full evening gown and mink stole (don't laugh too hard at that mental image, you might hurt yourself), and happened to hear this tid-bit of conversation:
"My mom and I just got in a fist fight at the Safeway... Why!? She took my Gatorade! She knows you don't mess with another person's Gatorade!"
That's right folks, classy people have their priorities straight: Blood may be thicker than water, but blood doesn't taste nearly as good as Gatorade.
Well, at least I can say I live in a town that provides me with plenty of writing material?
Do you think your town rivals Spokane in its 'fancy-ness?" Bring it, I will take you down like you just stole my Gatorade!
As always, have a fabulous week. If you need to find me check out my
Facebook
page, follow me on
Twitter
(@AllisonHawn) and visit me on
Goodreads
!